Gypsy Queen
Medium Roast
Sumatra, Ethiopian Yirgacheffe, Colombia
Regular price
Sale price
$20.99
Unit price
per
However you make your brew, as soon as this blend touches your tongue, you'll be dancing for the rest of your life.
Get charged up for the day with a cup of freshly brewed coffee that is smooth and balanced and not bitter or sour. Gypsy Queen from Disco Coffee is the perfect choice for you.
This bag of coffee is a sharp blend of Marzipan and syrupy enough to titillate your senses from the first sip. It is the ideal blend if you prefer your coffee to be medium strong. The beans are sourced from Sumatra, Ethiopian Yirgacheffe, and Colombia, the leaders in quality coffee production in the world.
A bag of Gypsy Queen is available in retail and wholesale bags of 12 oz. and 5 lbs.
Roast Level

Medium Roast
Marzipan, Syrupy, Sharp
Ingredients
Sumatra, Ethiopian Yirgacheffe, Colombia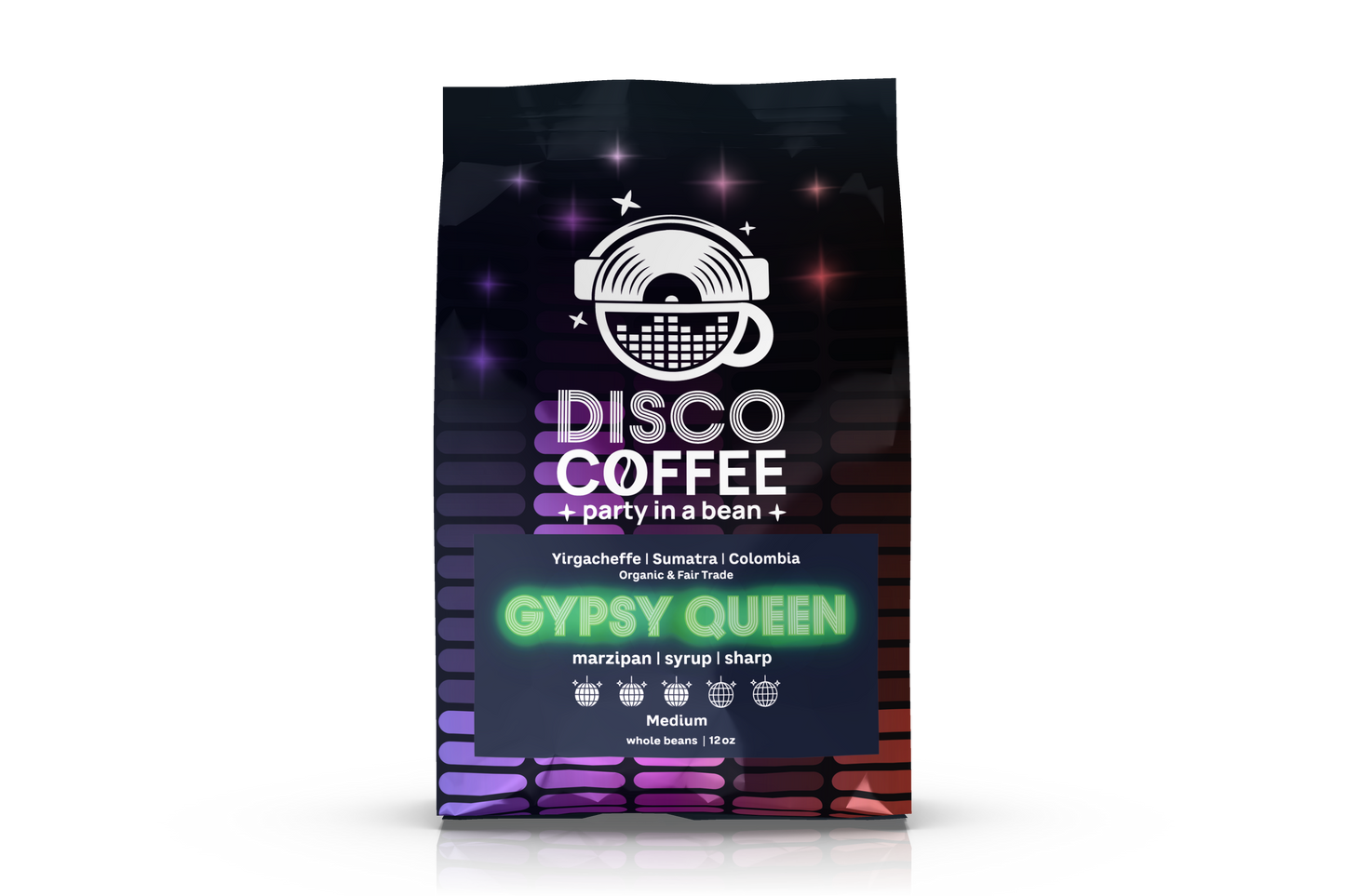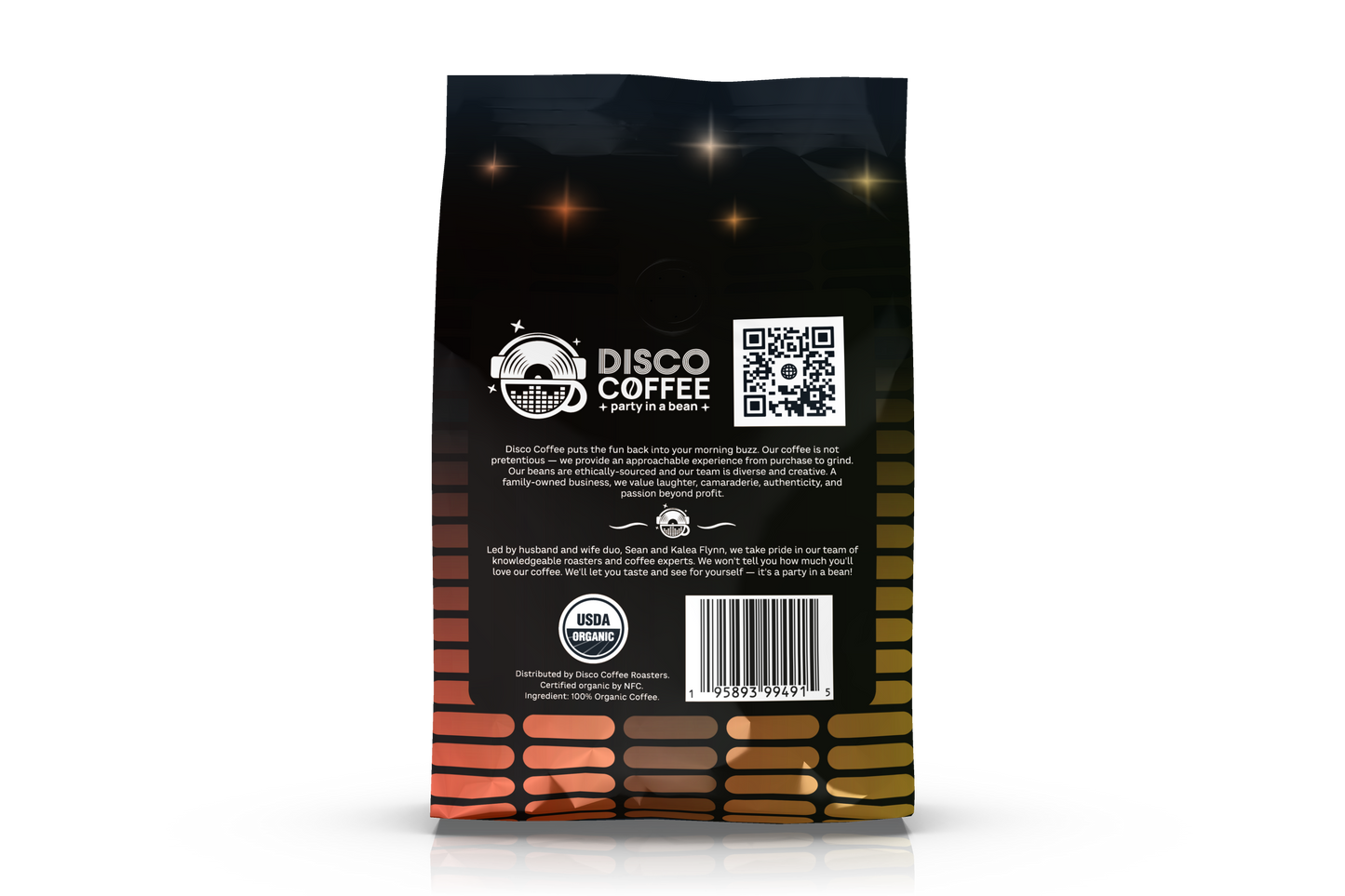 OUR PRODUCTS
What we provide
Dark Roast

Brazil

Regular price

From $18.99

Regular price

Sale price

From $18.99

Unit price

per

Light Roast

Colombia, Guatemala, Ethiopia Sidamo

Regular price

From $18.99

Regular price

Sale price

From $18.99

Unit price

per

Dark Roast

Nicaragua, Indian Cherry Robusta

Regular price

From $16.99

Regular price

Sale price

From $16.99

Unit price

per

Medium Roast

Honduras MWP Decaf

Regular price

From $19.99

Regular price

Sale price

From $19.99

Unit price

per

Light Roast

Guatemala, Ethiopian Yirgacheffe

Regular price

From $20.99

Regular price

Sale price

From $20.99

Unit price

per

Dark Roast

Honduras, Nicaragua, Ethiopian Yirgacheffe

Regular price

From $19.99

Regular price

Sale price

From $19.99

Unit price

per

Medium Roast

Colombia

Regular price

From $18.99

Regular price

Sale price

From $18.99

Unit price

per

Dark Roast

Peru

Regular price

From $18.99

Regular price

Sale price

From $18.99

Unit price

per

Medium Roast

Honduras

Regular price

From $18.99

Regular price

Sale price

From $18.99

Unit price

per

Medium Roast

Mexico

Regular price

From $18.99

Regular price

Sale price

From $18.99

Unit price

per

Medium Roast

Guatemala

Regular price

From $18.99

Regular price

Sale price

From $18.99

Unit price

per

Dark Roast

Nicaragua

Regular price

From $17.99

Regular price

Sale price

From $17.99

Unit price

per

Medium Roast

Sumatra, Ethiopian Yirgacheffe, Colombia

Regular price

From $20.99

Regular price

Sale price

From $20.99

Unit price

per

Light Roast

El Salvador

Regular price

From $18.99

Regular price

Sale price

From $18.99

Unit price

per

Light Roast

Ethiopian Yirgacheffe

Regular price

From $20.99

Regular price

Sale price

From $20.99

Unit price

per

Matcha Green Tea

Regular price

Sale price

$22.00

Unit price

per

Matcha Green Tea, Monk Fruit Extract

Regular price

Sale price

$22.00

Unit price

per

Regular price

$125.00

Sale price

$99.00

Unit price

per