Velvet Thunder
Dark Roast
Brazil, Nicaragua, Ethiopian Limu
Regular price
Sale price
$18.99
Unit price
per
Finally, a blend that will comfort you with a blanket of velvet.
Finally, a coffee blend that is smooth as silk and calms the senses as comfortably as velvet. Disco Coffee brings to you our superior coffee blend Velvet Thunder, the aroma that welcomes the morning.
Velvet Thunder is blended from Tea and sweet grain and has a well-rounded taste and flavor. The beans are sourced from Ethiopian Limu, Peaberry Brazil, and Nicaragua, all major coffee producers in the world. If medium dark is your preferred taste for coffee, Velvet Thunder is the perfect blend for you.
A bag of Velvet Thunder is available in retail and wholesale bags of 12 oz. and 5 lbs.
Roast Level

Dark Roast
Tea, Sweet Grain, Round
Ingredients
Brazil, Nicaragua, Ethiopian Limu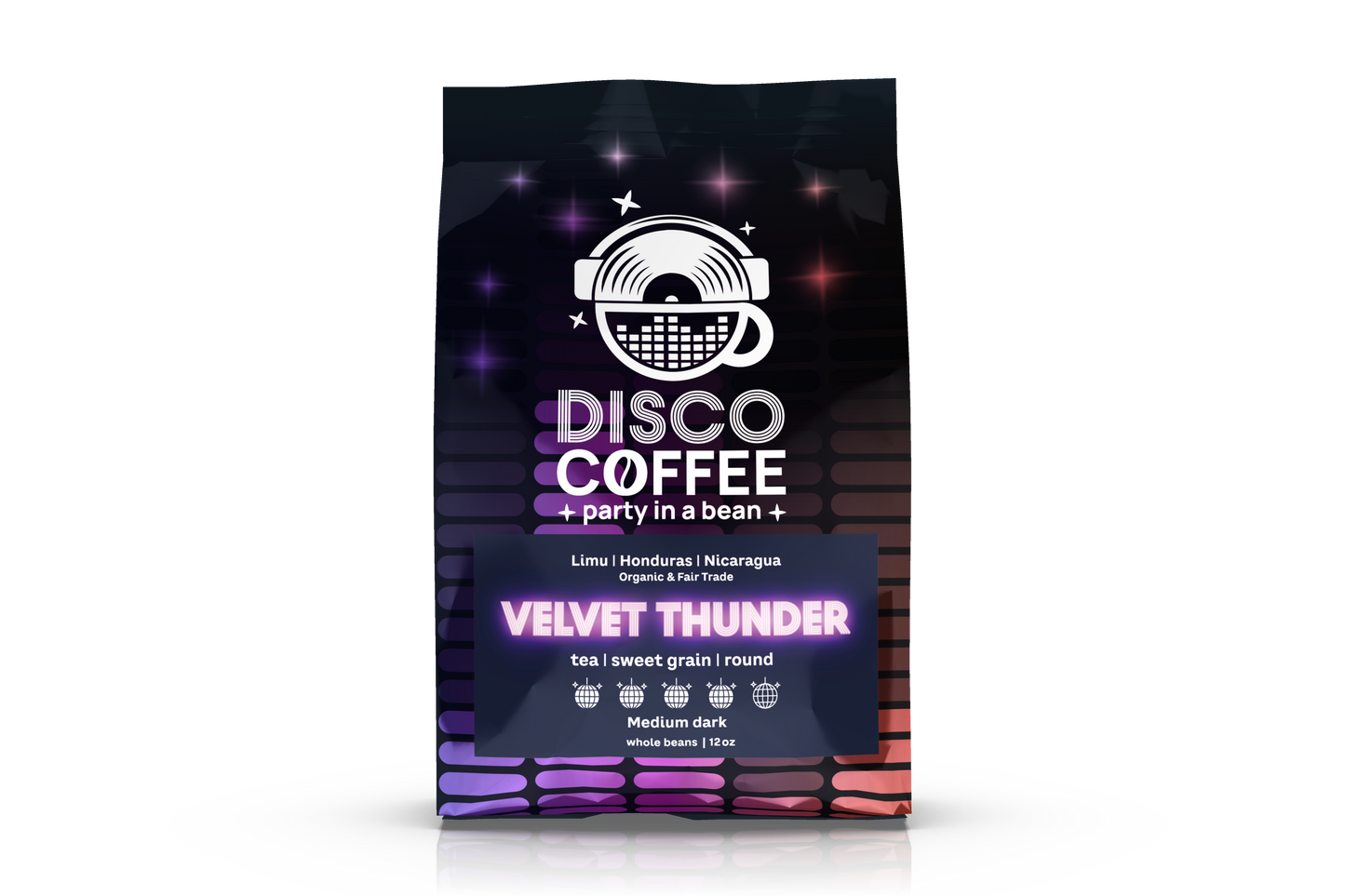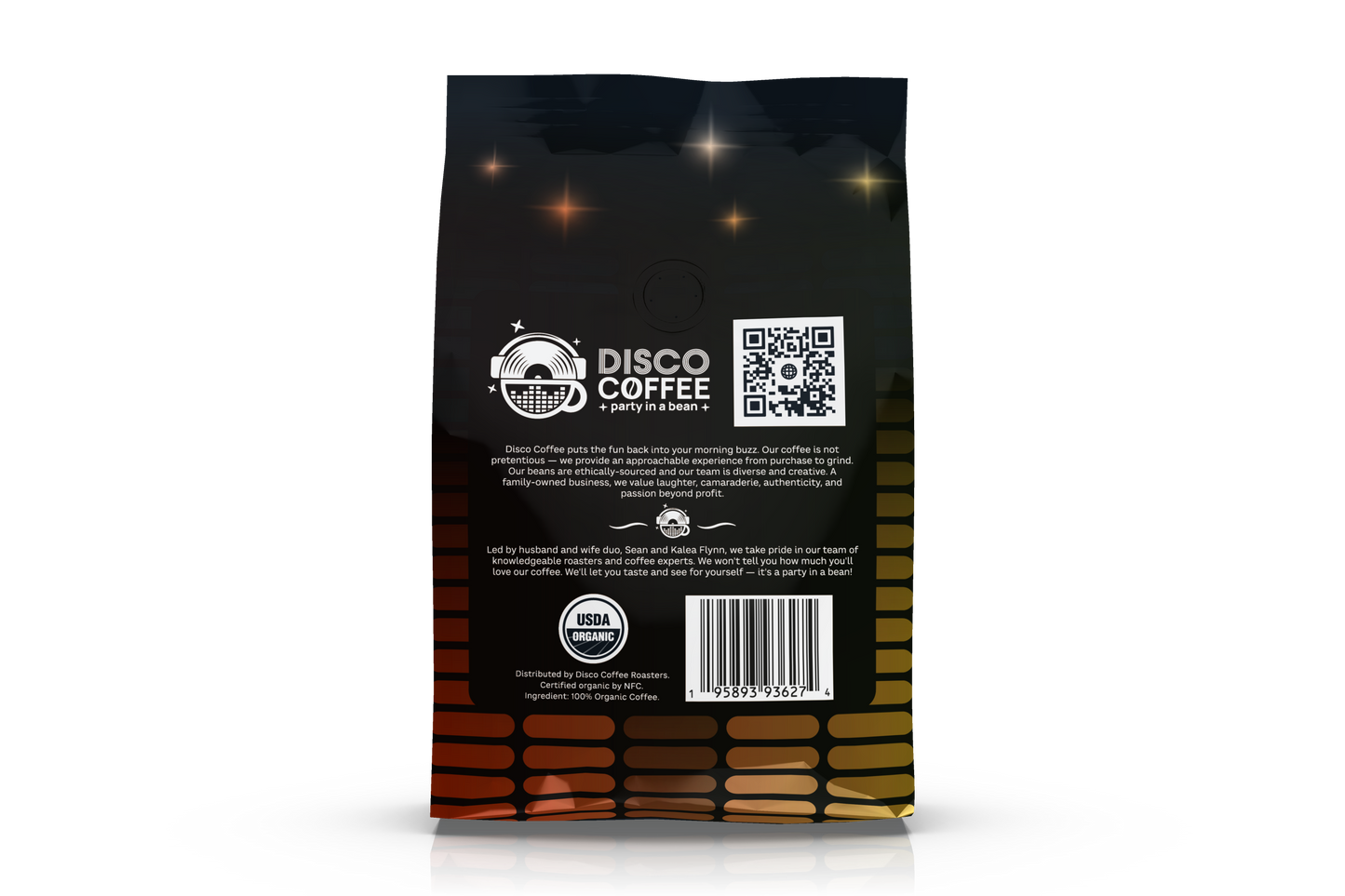 OUR PRODUCTS
What we provide
Dark Roast

Brazil

Regular price

From $18.99

Regular price

Sale price

From $18.99

Unit price

per

Light Roast

Colombia, Guatemala, Ethiopia

Regular price

From $18.99

Regular price

Sale price

From $18.99

Unit price

per

Medium Roast

Honduras Decaf

Regular price

From $18.99

Regular price

Sale price

From $18.99

Unit price

per

Dark Roast

Nicaragua, Indian Cherry Robusta

Regular price

From $15.99

Regular price

Sale price

From $15.99

Unit price

per

Light Roast

Guatemala, Ethiopian Limu, Ethiopian Yirgacheffe

Regular price

From $17.99

Regular price

Sale price

From $17.99

Unit price

per

Dark Roast

Brazil, Nicaragua, Ethiopian Limu

Regular price

From $18.99

Regular price

Sale price

From $18.99

Unit price

per

Dark Roast

Peru

Regular price

From $18.99

Regular price

Sale price

From $18.99

Unit price

per

Medium Roast

Colombia

Regular price

From $15.99

Regular price

Sale price

From $15.99

Unit price

per

Medium Roast

Honduras

Regular price

From $18.99

Regular price

Sale price

From $18.99

Unit price

per

Medium Roast

Mexico

Regular price

From $18.99

Regular price

Sale price

From $18.99

Unit price

per

Medium Roast

Guatemala

Regular price

From $18.99

Regular price

Sale price

From $18.99

Unit price

per

Dark Roast

Nicaragua

Regular price

From $15.99

Regular price

Sale price

From $15.99

Unit price

per

Medium Roast

Sumatra, Ethiopian Yirgacheffe, Colombia

Regular price

From $18.99

Regular price

Sale price

From $18.99

Unit price

per

Light Roast

El Salvador

Regular price

From $18.99

Regular price

Sale price

From $18.99

Unit price

per

Light Roast

Ethiopian Limu

Regular price

From $18.99

Regular price

Sale price

From $18.99

Unit price

per

Regular price

$125.00

Sale price

$99.00

Unit price

per