Sweet Pablo
Medium Roast
Colombia
Regular price
Sale price
$18.99
Unit price
per
You'll find that our single origin Colombian has the perfect balance of caramel and dark chocolate accompanied by mellow acidity.
Do not underestimate the power of Sweet Pablo, the unique coffee blend from Disco Coffee, to wake you up in the morning. This single origin and superior Colombian coffee is sourced from the best plantations in the country. 
Sweet Pablo is a smooth blend of caramel and dark chocolate. The medium strong coffee leaves a delightful taste in the mouth and the mellow acidity flavor is ideal to kickstart the day.
Buy Sweet Pablo in retail and wholesale bags of 12 oz. and 5 lbs.
Roast Level

Medium Roast
Caramel, Dark Chocolate, Mellow Acidity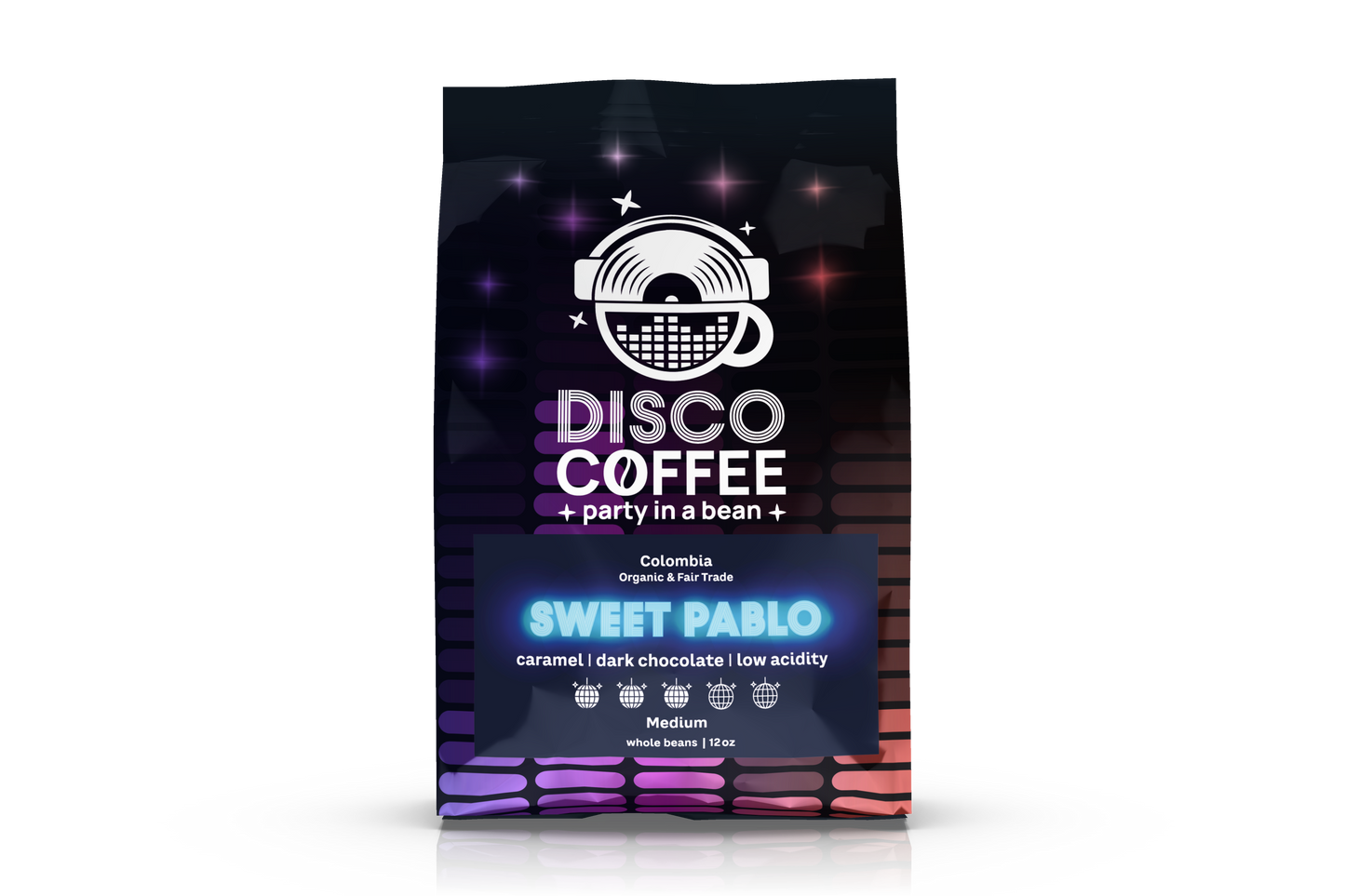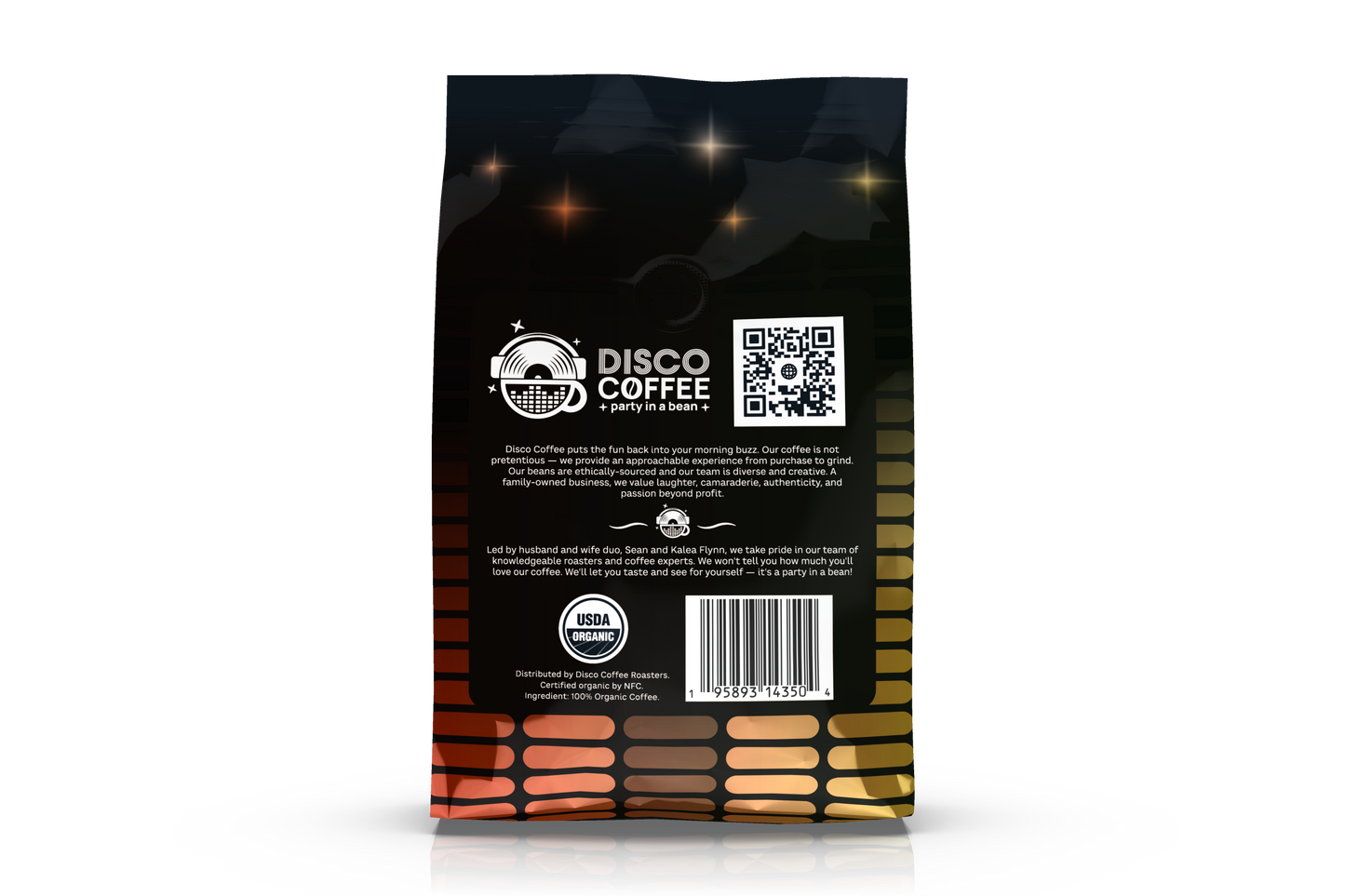 OUR PRODUCTS
What we provide
Dark Roast

Brazil

Regular price

From $18.99

Regular price

Sale price

From $18.99

Unit price

per

Light Roast

Colombia, Guatemala, Ethiopia Sidamo

Regular price

From $18.99

Regular price

Sale price

From $18.99

Unit price

per

Dark Roast

Nicaragua, Indian Cherry Robusta

Regular price

From $16.99

Regular price

Sale price

From $16.99

Unit price

per

Medium Roast

Honduras MWP Decaf

Regular price

From $19.99

Regular price

Sale price

From $19.99

Unit price

per

Light Roast

Guatemala, Ethiopian Yirgacheffe

Regular price

From $20.99

Regular price

Sale price

From $20.99

Unit price

per

Dark Roast

Honduras, Nicaragua, Ethiopian Yirgacheffe

Regular price

From $19.99

Regular price

Sale price

From $19.99

Unit price

per

Medium Roast

Colombia

Regular price

From $18.99

Regular price

Sale price

From $18.99

Unit price

per

Dark Roast

Peru

Regular price

From $18.99

Regular price

Sale price

From $18.99

Unit price

per

Medium Roast

Honduras

Regular price

From $18.99

Regular price

Sale price

From $18.99

Unit price

per

Medium Roast

Mexico

Regular price

From $18.99

Regular price

Sale price

From $18.99

Unit price

per

Medium Roast

Guatemala

Regular price

From $18.99

Regular price

Sale price

From $18.99

Unit price

per

Dark Roast

Nicaragua

Regular price

From $17.99

Regular price

Sale price

From $17.99

Unit price

per

Medium Roast

Sumatra, Ethiopian Yirgacheffe, Colombia

Regular price

From $20.99

Regular price

Sale price

From $20.99

Unit price

per

Light Roast

El Salvador

Regular price

From $18.99

Regular price

Sale price

From $18.99

Unit price

per

Light Roast

Ethiopian Yirgacheffe

Regular price

From $20.99

Regular price

Sale price

From $20.99

Unit price

per

Matcha Green Tea

Regular price

Sale price

$22.00

Unit price

per

Matcha Green Tea, Monk Fruit Extract

Regular price

Sale price

$22.00

Unit price

per

Regular price

$125.00

Sale price

$99.00

Unit price

per